Munich queer events are not just limited to pride month, we've got a full calendar of amazing annual activities to celebrate being queer all year!
Munich, Germany – a city known for its rich culture and history, also stands proudly as a hub of queer community joy and celebration. If you're seeking a vibrant and inclusive experience, you've come to the right place! We're spilling the tea on Munich's annual queer events that will keep you coming back for more.
From dazzling parades to charming Christmas markets, Munich knows how to celebrate love and diversity.
💡Searching for regular events? Check out our monthly event calendar for day to day activities! 💡
From Festivals To Charity Runs, These Events Are A Great Way To Connect And Celebrate!
So what are you waiting for? Get out there and have some fun! Check out our handy guide to some of the best annual queer events in Munich!
Munich Queer Events: Fasching / Rosenmontag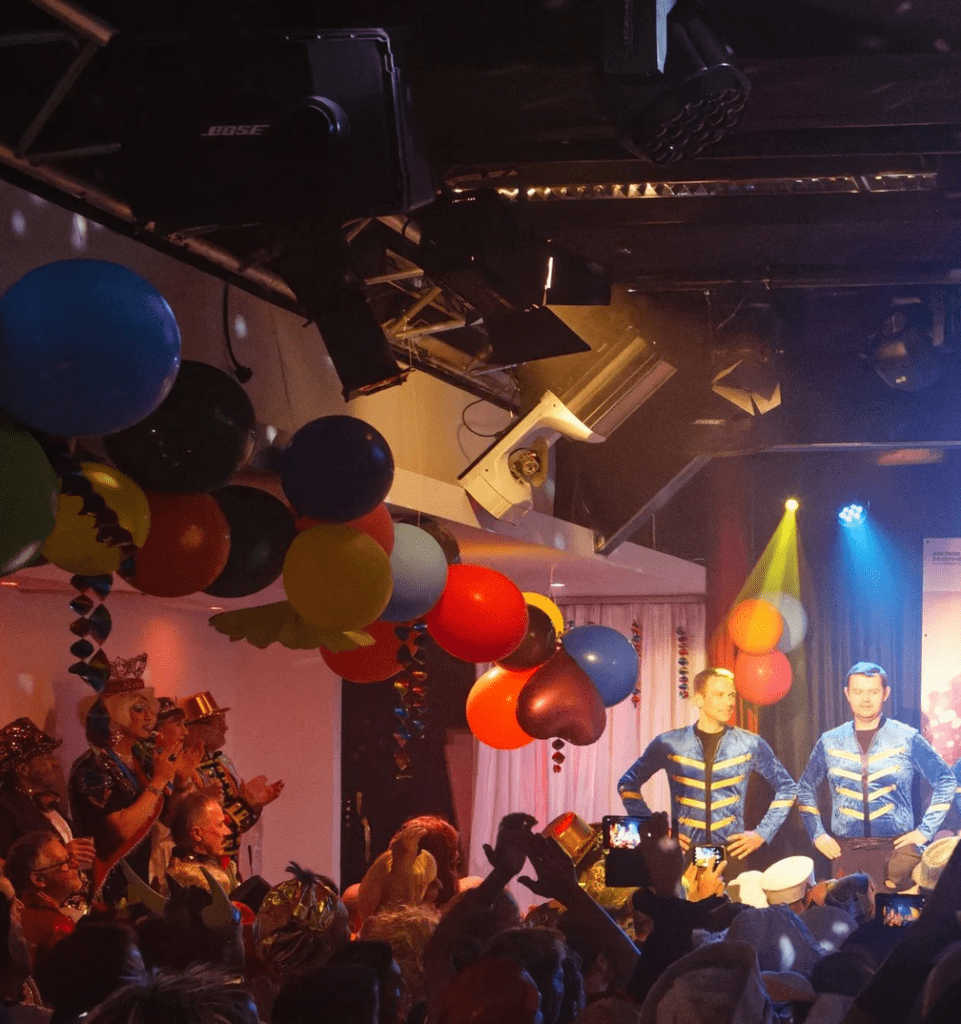 For a day of pure joy and outrageous fun, look no further than Rosenmontag. Munich's take on the traditional German carnival (or Bavarian Faschingszeit), Rosenmontag, is anything but ordinary. Held on the Monday before Ash Wednesday, this event sees the entire city erupt into a whirlwind of costumes, music, and laughter.
The queer community embraces Rosenmontag with open arms, turning it into a celebration of diversity and self-expression. Dress up in your wildest outfit and join the Rosenmontagsball, which is an extravaganza where you can witness some of the most amazing costumes the city has to offer!
When: Monday before Ash Wednesday
Where: Locations various annually
Munich Queer Events: Christopher Street Day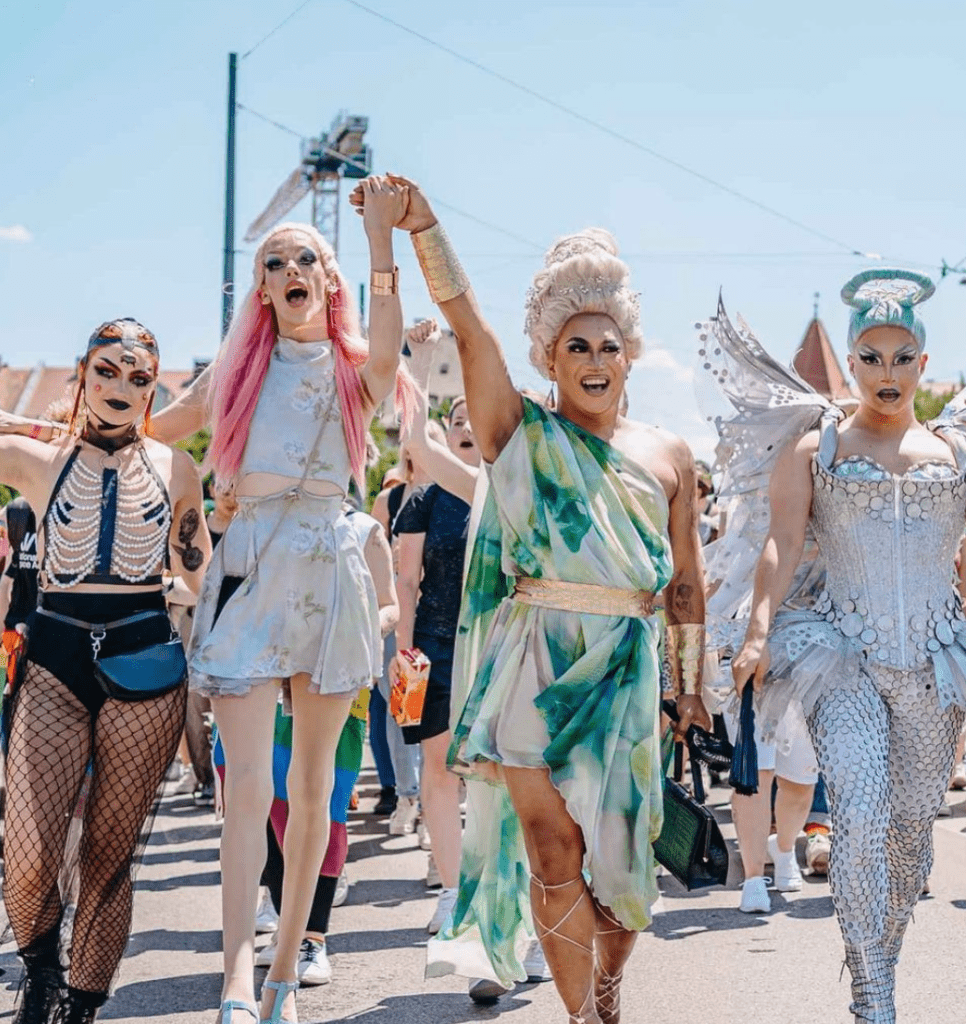 Christopher Street Day, or CSD, as we lovingly call it here in Munich is the granddaddy of all pride parades, and it's held on the weekend closest to the anniversary of the Stonewall riots. It's a time when the entire local queer community, along with allies, takes to the streets of Munich to celebrate love, diversity, and equality.
The parade winds through the city centre and culminates in a massive street party in the Marienplatz…but along the way you can find a multitude of mini fests and of course multiple weekends of fantastic parties, performances and the infamous Rathaus Clubbing night!
When: The first three weeks of June // Find this year's date on the CSD website
Where: All around Munich
Munich Queer Events: Hans-Sachs-Straßenfest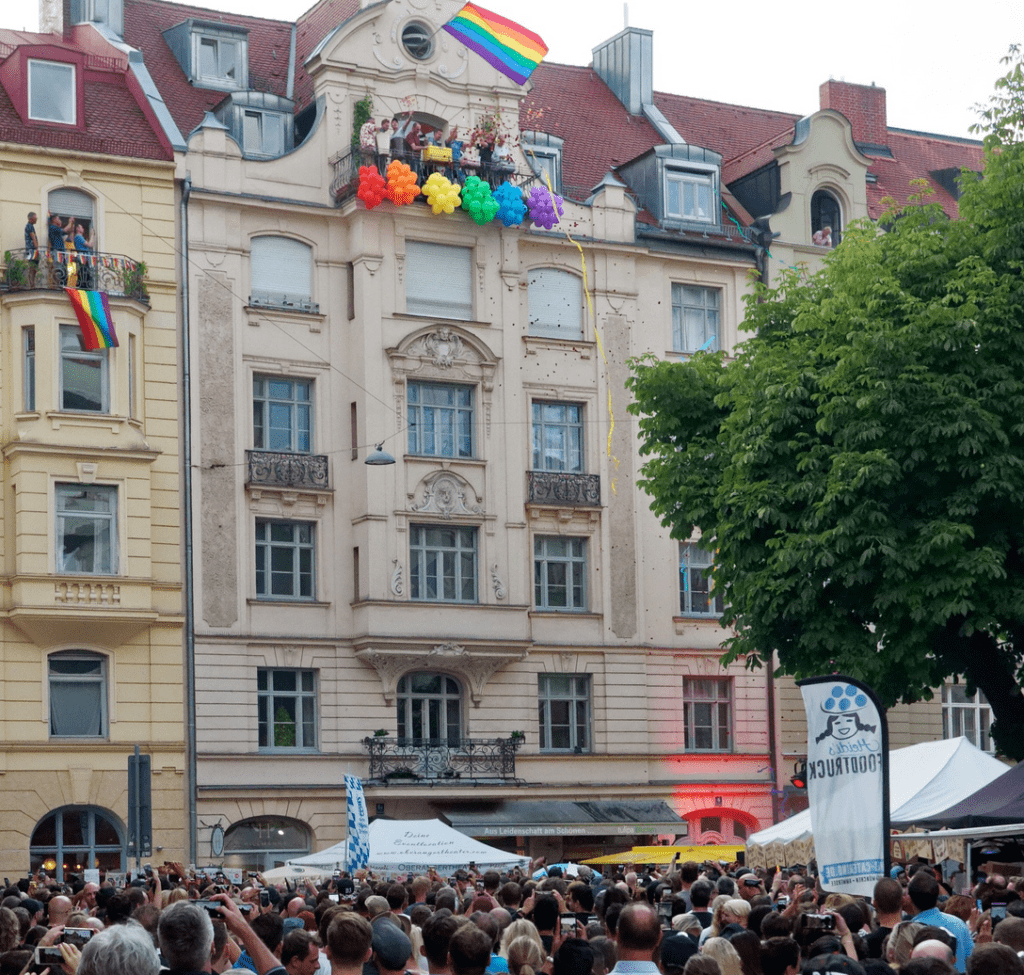 If you're all about street parties, good vibes, and dancing your heart out, Hans-Sachs-Straßenfest is the event for you. Held in Glockenbachviertel, Munich's LGBTQ+ quarter, this annual event is one will for sure need to mark on your calendar!
The Hans-Sachs-Straßenfest features live bands, DJs, and drag performances that will keep you moving and grooving all night long. It's a fantastic opportunity to immerse yourself in Munich's queer scene, make new friends, and enjoy a summer evening to its fullest!
When: It traditionally takes place on the first Saturday after the Catholic holiday Maria Himmelfahrt
Where: Hans-Sachs-Strasse and Ickstrasse
Munich Queer Events: Run For Life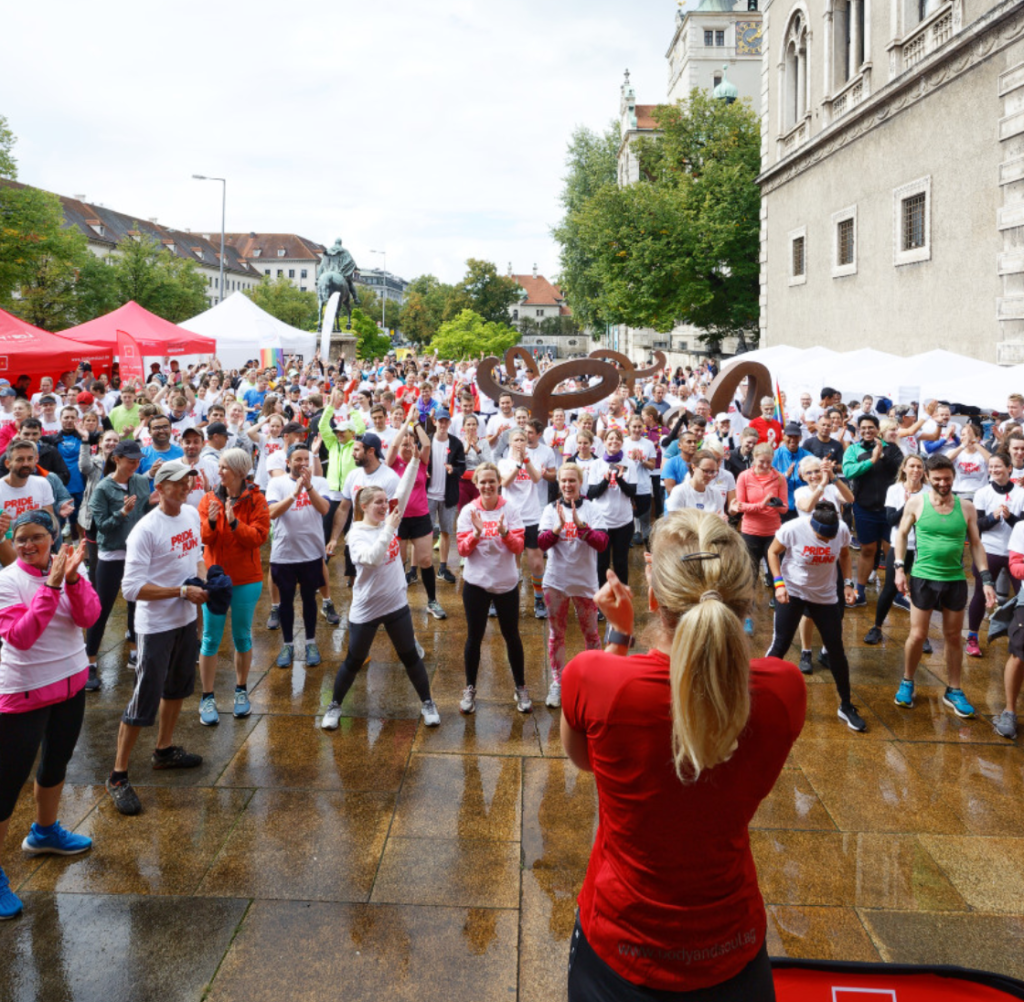 Lace up your running shoes and get ready to stride with pride in the Run For Life event. This annual event combines fitness, fun and charity support. Held in September, it's a fantastic way to kick off the fall season in Munich.
This annual 5K race takes place during September and as a charity event, the Run for Life helps raise public awareness about HIV/AIDS and supports the Münchner Aids-Hilfe .
The race is open to runners of all abilities and is a fun, inclusive way to show your support for the community. You can find more information and registration links on their website here!
When: Typically the second weekend of September
Where: In the English Garden
Munich Queer Events: Pink Christmas Market
When winter rolls around, Munich continues to shine with the Pink Christmas Market, a true highlight of the holiday season. Located at Stephansplatz, this market is a delightful fusion of Christmas tradition and queer culture. Imagine sipping mulled wine under the sparkling lights of a pink Christmas tree while enjoying live performances by local queer artists.
The market stalls are a treasure trove of unique gifts, crafts, and delicious treats, making it a perfect place for holiday shopping. Whether you're looking for a cozy spot to cuddle with your partner or a friendly atmosphere to meet new friends, the Pink Christmas Market will warm your heart and put a smile on your face. Don't forget to try the Glühwein (mulled wine) – it's a seasonal must!
When: November and December // Find this year's dates on their website
Where: Stephansplatz
Munich Queer Events: Munich Queer Film Festival
Calling all film buffs and queer cinema enthusiasts! The Queer Film Festival Munich is an annual cinematic extravaganza that showcases the best in queer cinema from around the world. Held in October or November (depending on the year), it's the perfect way to embrace the cozy vibes of autumn while indulging in thought-provoking and entertaining films.
This festival is all about celebrating queer voices and stories on the big screen. You'll have the chance to watch groundbreaking documentaries, heart-warming dramas, and laugh-out-loud comedies that explore the LGBTQ+ experience.
The festival also hosts Q&A sessions with film-makers and panel discussions, creating a space for dialogue and appreciation. So, grab your popcorn and get ready for a week of cinematic magic that'll expand your horizons and touch your heart.
When: In the fall // Find this year's dates on their website
Where: Multiple locations in Munich
Munich Queer Events: Oktoberfest
Last but certainly not least, Munich's annual Oktoberfest is world-famous, but did you know there's a queer twist to this Bavarian tradition?
The Queer Oktoberfest days are a vibrant celebration of diversity and inclusivity that takes place during the main Oktoberfest festivities. So, grab your lederhosen and your rainbow flag because it's time to raise a maß and toast to love and unity!
At the Queer Oktoberfest days , you'll find a designated LGBTQ+ area within the festival grounds, complete with its own beer tent and lively entertainment. It's a space where you can enjoy traditional Bavarian culture while being your authentic self.
The atmosphere is infectious, the beer is flowing, and the camaraderie is heart-warming. It's a unique experience that combines the best of Bavaria's traditions with the spirit of LGBTQ+ pride.
When: The end of September and start of October// Find this year's dates here
Where: Oktoberfest, Munich
Looking For Other Fun Things to Do or Great Deals in Munich?
Have a look at our event calendar!