It's time to add a little extra 'oom-pa-pa' in your step with these Munich queer Oktoberfest events! Don your lederhosen, dust off your dirndls, and join us for some beer-soaked, glitter-fuelled celebrations this month.
Keep on reading to prost to the most colourful, inclusive, and spectacular Oktoberfest events on offer this year.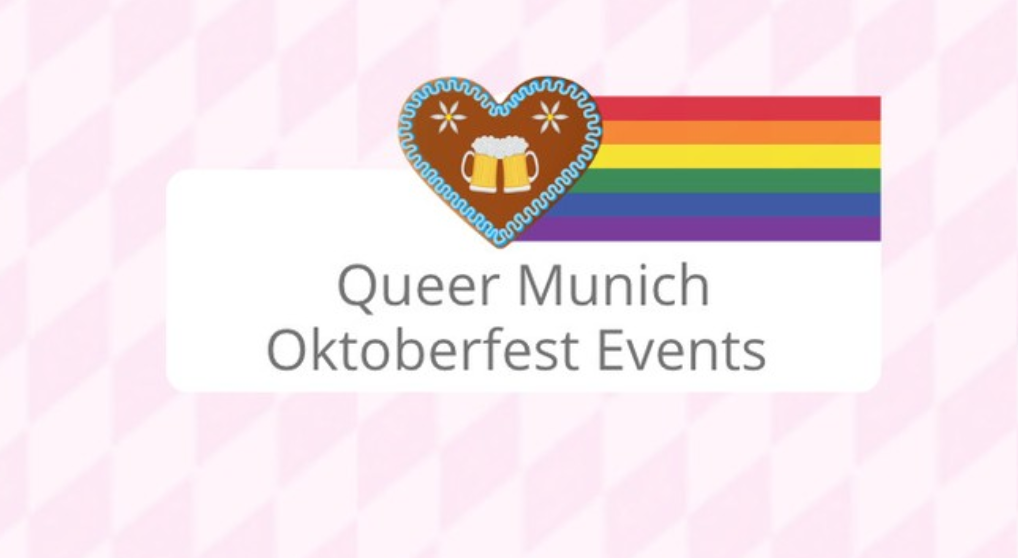 Table of Contents
Deutsche Eiche – Wiesn Warm Up Party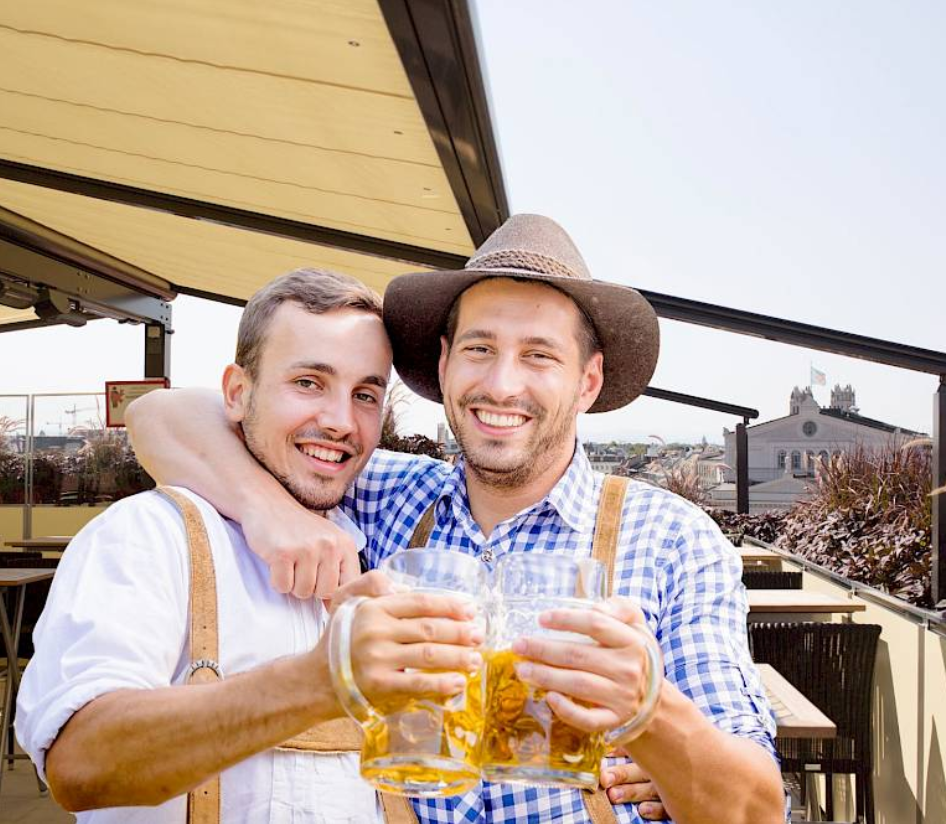 Kick off Oktoberfest by climbing on top of the world at the Deustche Eiche rooftop bar.
Join in at 5p.m and then after 9.30, make the time to head downstairs to the restaurant for proper Oktoberfest tent vibes, and the perfect chance to practise your moves before the upcoming weekend.
When: 5pm – 9.30pm – Friday 15th September
Where: Reichenbachstrasse 13
MLC Oktoberfest Tour
Join the München Löwen Club for a one of a kind queer Oktoberfest experience – head behind the scenes at Bräurosl tent and get an exclusive look at what goes into making this Fest the best.
You can grab more details and your ticket on their website here! And also check out where they will be on Sunday for their Oktoberfest meetup!
When: Friday 15th September
Where: Denkmal Wiesn-Attendat-Opfer, 1980 Bavariaring 5
Rosa Wiesn – Anstich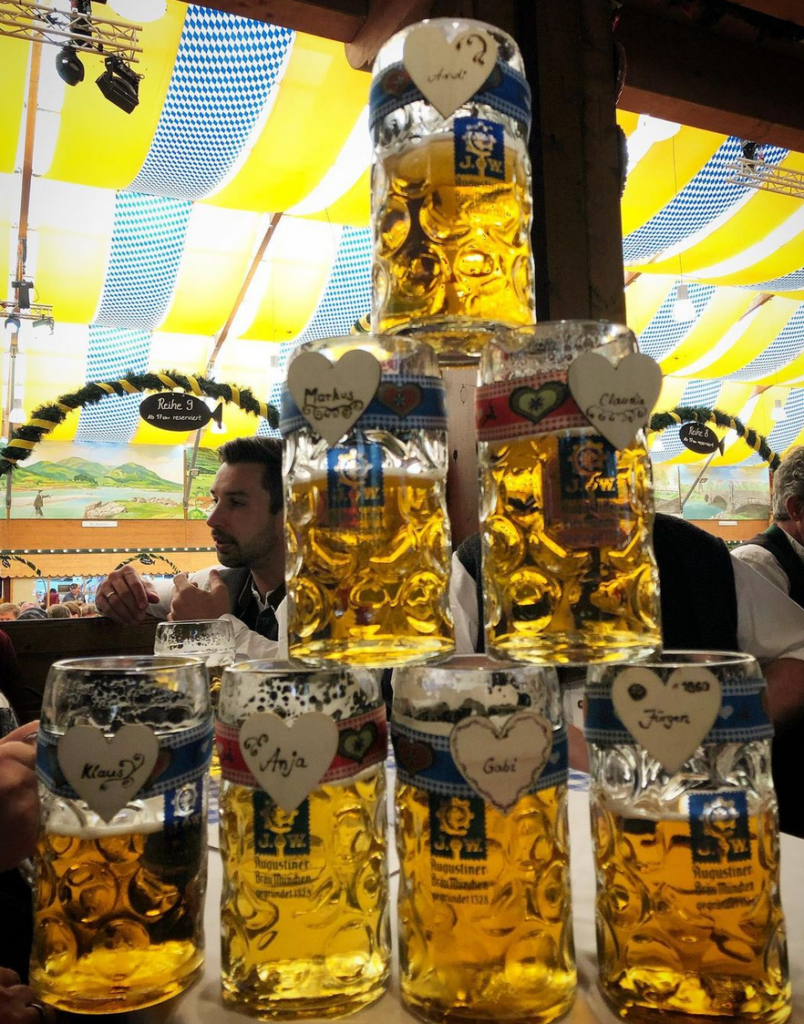 The Wiesn ministerium is hosting their 8th annual LGBTQIA*+ get together this year in the beautiful Käfer Beer Garden – grab a maß, grab a table and make some excellent memories.
The day kicks off with the group meeting up at 11:30a.m in the Käfer biergarten in the back by the may pole and continues with a wonderful (multilingual) and colourful day of laughs, cheers and plenty of frothy Oktoberfest beers!
Grab more details or get in touch through their Facebook event page here!
When: Saturday 16th September
Where: Käfer Biergarten
Gay Sunday // Rosa Wiesn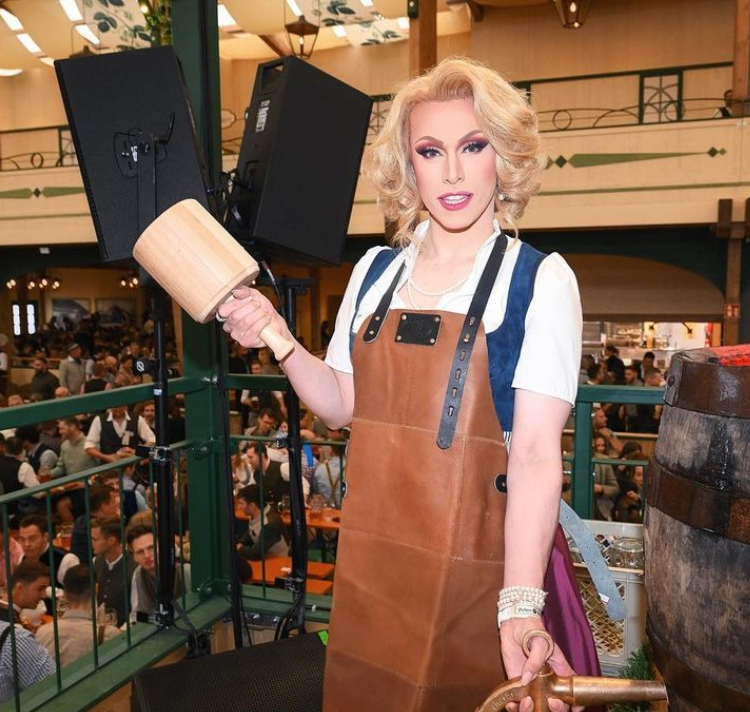 If you love a tent takeover, get ready for a day of Open Air style celebration in the thick of things at Bräurosl!
Kicking off at 9am and expected to whirl well into the evening, this is a 40 year old party and the biggest Queer party of Wiesn – you don't want to miss this.
When: From 9am – Sunday 17th September 2023
Where: Bräurosl Tent
RoslMontag // Gay Wiesn Club
The first Monday of Wiesn (Roslmontag) plays host to a number of special events – including this special annual meet up for gays and lesbians looking to avoid the mayhem of Gay Sunday.
Head back over to the coveted Bräurosl tent and to the right of the main entrance then back to the beer tent under the balcony to find this chilled out community gathering
When: From 3pm – Monday 18th September
Where: Bräurosl Tent
Queer Kegeln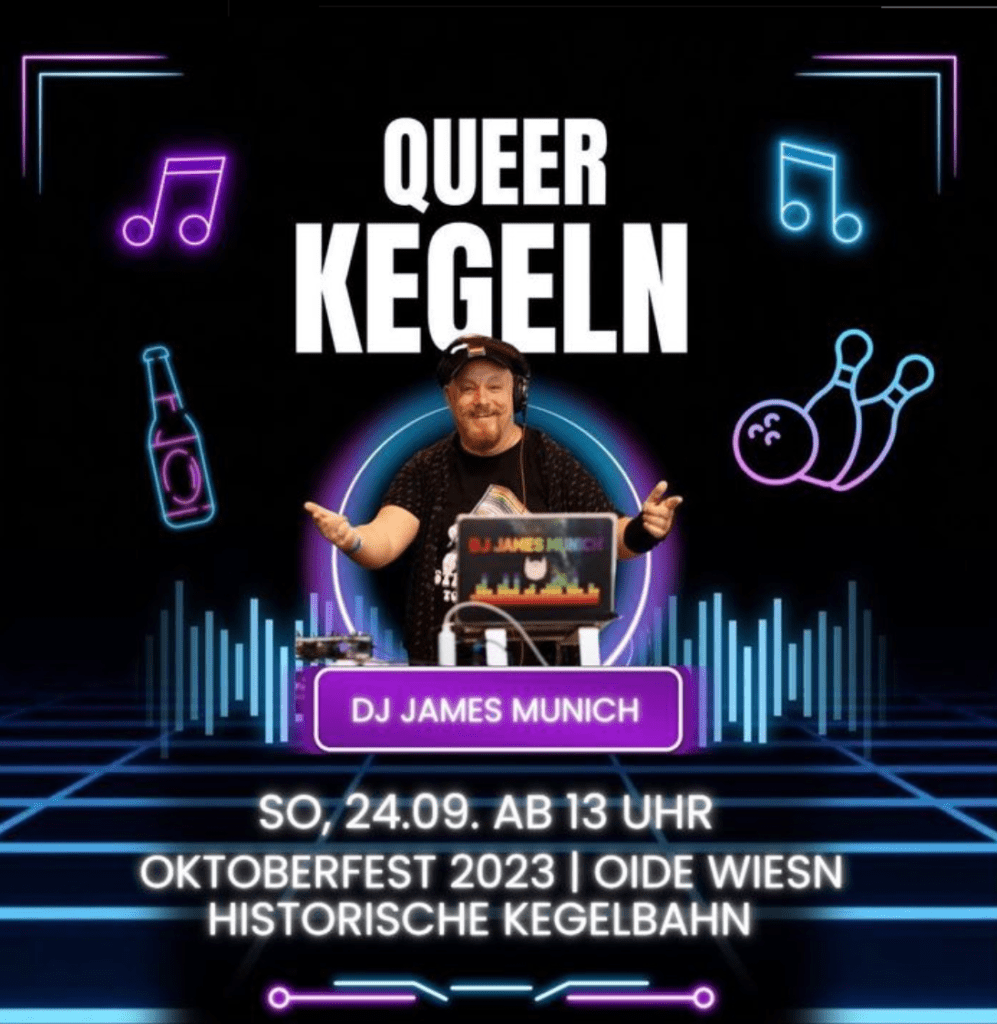 The perfect all day mix for those who like to dabble – you can expect a little bit of everything; drinks, games, great music, dancing and banter.
This is our favourite smorgasbord of experience to celebrate Queer Wiesn in a typical Sunday fashion. Not to mention its in the historic Oide Wiesn with an accompanying soundtrack of hits by the historically iconic Munich DJ James.
When: Sunday 24th September 2023
Where: Historische Kegelbahn
Prosecco Wiesn
Heralded as the wildest Queer Monday of the Wiesn Season – we've saved the best til last for you.
Starting at 1pm this Prosecco party is our favourite way to break up the steins and sausages (ahem) – get there early to make sure you get in.
Enjoy another ruckus of a tent take over, but this time with a little bit more glam….graciously provided with a dynamite amount of local drag talent serving up some serious looks to go with all the glorious drinks!
When: From 1pm – Monday 25th September 2023
Where: Fischer Vroni Tent
Looking For Other Fun Things to Do or Other Great Queer Events In Munich?
Have a look at our event calendar, or ask us below!