Hello fabulous queer community, welcome to Munich Pride Events Weekend 1! We've reached the start of Munich's two-week long pride eleganza extravaganza, so start your engines and let's get your pride on!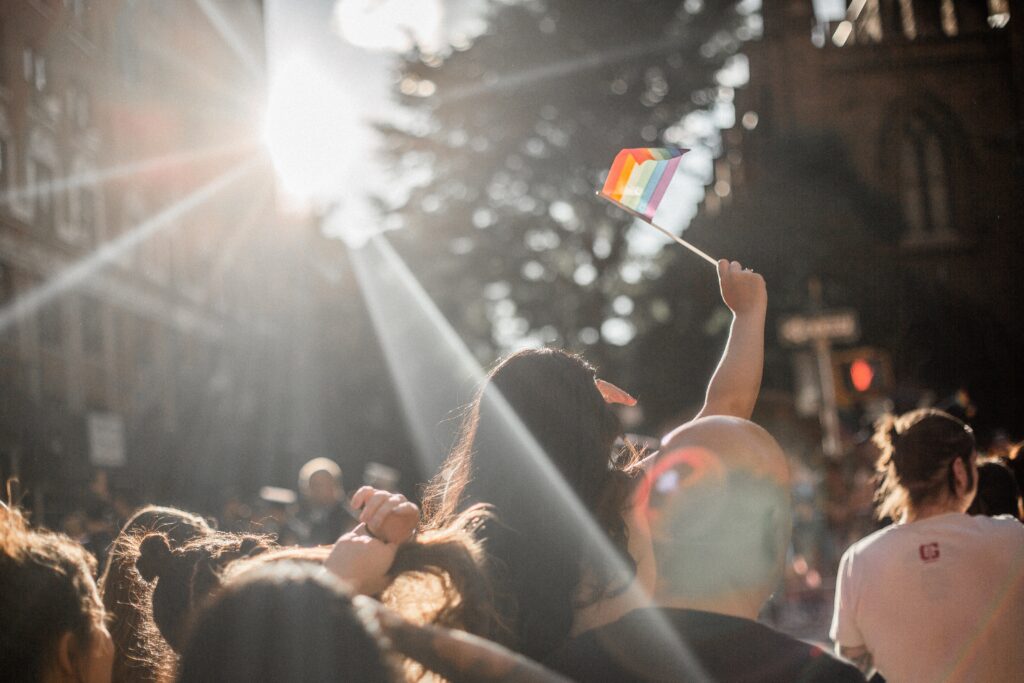 To help you all out, we've compiled a variety of different events celebrating every colour of the rainbow . So have a look and enjoy!
Munich Pride Events, Activities, and Parties This Weekend
It's Pride ya'll and Munich is in it for the long haul! Two weeks of Pride events ranging from workshops over exhibitions to parties and of course the CSD Parade! Munich Pride has something in store for everyone.
Munich Pride Events 2023
CSD/ Munich Pride is a busy time in the city. The events are spread all over Munich, but of course most of it happens in the inner city, around Gärtnerplatz and Marienplatz.
If you are wondering about the best events to go to or the easiest way to find them, have a look at our event calendar and read our weekly event updates for more info!
And as we say in the industry… "Love your Hair hope you win"
Glockenbach Street Festival
Experience history in the making as one of the long-standing and renowned neighbourhood street festivals becomes the inaugural street festival of the Munich Pride events.
This festival holds a special place in both the queer community and the entire neighbourhood. Prepare for a vibrant showcase featuring drag queens, influential figures from the queer scene, and emerging young artists in the afternoon, followed by an evening of exhilarating dance grooves with talented DJs.
Join us as we dance beneath the rainbow and kick off the Munich Pride events with style!
When: Saturday, June 10, 2023 // 2 p.m. – 12 a.m.
Where: Karl-Heinrich-Ulrich-Platz
Cost: Free Admission
Designing Signs
Join us in a collaborative effort to create impactful posters and signs that express our political demands and statements for the PolitParade during Pride.
Whether you consider yourself creative or not artistically inclined, we welcome everyone to freely contribute their designs. This opportunity is open to individuals up to 27 years of age, providing an inclusive platform for all.
When: Saturday, June 10, 2023 // From 2 p.m.
Where: Blumenstr. 11
Cost: Free Admission
Guided City Tour "Queer history in the Northern City Center"
Embark on a captivating journey with the "Queer History in the Northern City Center of Munich" city walk, expertly guided by the "Forum Queeres Archiv Munich."
Discover the hidden stories of locations spanning from the northern edge of the Old Town to Marienplatz, shedding light on queer aspects that have largely faded from memory.
Their aim is to unveil the pervasive presence of the LGBTIQ* community throughout the city's rich history, ensuring their visibility and recognition.
When: Saturday, June 10, 2023 // 2 p.m.
Where: Marienplatz Square
Cost: Free Admission
Das Schlaue Füchslein (The Smart Little Fox)
Prepare to be moved by one of the most remarkable and poignant love scenes in opera history, featuring a tender and heartfelt portrayal of two young and erotically inexperienced foxes, embodied by Elena Tsallagova and Angela Brower.
Experience the captivating magic of their first-time encounter, a truly unforgettable performance. Exclusive 20% discount for all online bookings of "Das schlaue Füchslein" using the keyword "Prideweek."
When: Saturday, June 10, 2023 // 7 p.m.
Where: Max-Joseph-Platz 2
Cost: From £10
Munich Kyiv Extravaganza
Experience a captivating evening led by Munich drag queen Vicky Voyage, featuring burlesque artists Ruby Tuesday and Agneta Linchevskaya, drag king Holey Father, drag queen Merritt Ocracy, drag ambassador Samantha Jackson, and lyrical singer Liudmyla Kuraliesova.
This charity event supports Ukrainian LGBTIQ* individuals in need.
When: Saturday, June 10, 2023 // 8 p.m.
Where: Brudermühlstr. 2
Cost: £29
Let's Get It Started
Kick off the Munich Pride weeks with a lively celebration at the Prosecco Bar featuring DJ Roofy!
Enjoy free admission and indulge in delicious drinks while experiencing the phenomenal atmosphere of Munich's hottest dance bar.
Get ready to dance the night away to the best pop beats as DJ Roofy sets the stage for a memorable start to the CSD weeks.
When: Saturday, June 10, 2023 // 8 p.m.
Where: Theklastr. 1
Cost: Free Admission
VoYAGers first OFFICIAL PRIDE OPENING PARTY
Immerse yourself in the captivating ambiance of the venue, boasting a magnificent rooftop terrace atop the Deutsche Museum.
From this vantage point, enjoy a breathtaking view of the Isar right in the heart of the city. Join in celebrating the rich diversity of our community, united in the fight against hate and advocating for our rights.
When: Saturday, June 10, 2023 // 9 p.m.
Where: Museumsinsel 1
Cost: Free Admission
Full Hardcore Gear
Indulge in a thrilling Fetish Dress code Party exclusively for men. This event offers a unique and captivating atmosphere tailored to the desires of the fetish community.
Join them for a night of uninhibited expression and exploration in an inclusive environment.
When: Saturday, June 10, 2023 // 9 p.m. – 11 p.m.
Where: Machtlfinger Strasse 29
Cost: Box Office On-Premises
PrideWeeks Opening: DARK /// Men Only
Come out for an exclusive celebration as we kick off PrideWeeks Munich 2023: MEN ONLY! Reconnect with your roots and embrace the heat at DARK, the ultimate masculine party of the year.
Get ready to dance to the beats of our resident DJs HPM and the renowned DJ Andi Mik from Vienna. As a special treat, prepare to be mesmerized by an internationally acclaimed porn star delivering a unique performance.
When: Saturday, June 10, 2023 // from 11 p.m.
Where: Elisenstr. 3
Cost: Box Office On-Premises
Between Own Voice and Non-fiction – trans*, inter*, and non-binary stories
Experience the opening of QUEER THINGS with a talk by Chris Tischer, delving into queer stories and featuring book readings (German language only).
Explore the significance of authorship within the queer community, focusing on recent publications that highlight the experiences of trans*, inter*, and non-binary individuals.
When: Sunday, June 11, 2023 // 2 p.m.
Where: Rosental 16
Cost: Free Admission
QUEER THINGS – Space for Queer Literature & Culture
Experience the vibrant diversity of queerness at Pixel², located at Rosental 16. From children's books to comics, novels, and specialized literature, QUEER THINGS offers something for everyone.
Join in for a series of engaging events that bring together Munich's queer community through creative actions, workshops, talks, readings, art, and more.
When: Sunday, June 11, 2023 // 12 p.m. – 5 p.m.
Where: Rosental 16
Cost: Free Admission
Make It Your Pride
Discover new friendships, elevate your style, gather your belongings, and prioritize consent with the help of Diversity Munich.
They offer an array of exciting opportunities to express yourself creatively and get ready for the forthcoming Munich Pride events. This inclusive initiative welcomes individuals up to 27 years of age, providing ample space for personal growth and exploration.
When: Sunday, June 11, 2023 // 3 p.m.
Where: Blumenstr. 11
Cost: Free Admission
Schallvita feat. Yanik Lang
Embrace the spirit of the iconic "Café am Hochhaus" as the Prosecco Bar offers a laid-back conclusion to the first weekend of CSD. From 7 pm, Yanik Lang will treat you to a fantastic blend of deep house, funk, and disco on the terrace and in the bar.
Reminiscent of the good old days, savour a refreshing beer or Spritz, engage in friendly conversations, dance, or simply unwind. It's the ideal way to celebrate the first CSD Sunday and set the tone for two incredible weeks ahead.
When: Sunday, June 11, 2023 // 7 p.m. – 1 a.m.
Where: Theklastr. 1
Cost: Free Admission
Looking For Other Munich Pride Events Or Activities?
Have a look at our event calendar!